EV
A Beginner's Guide To Buying Wine
Updated: Apr 29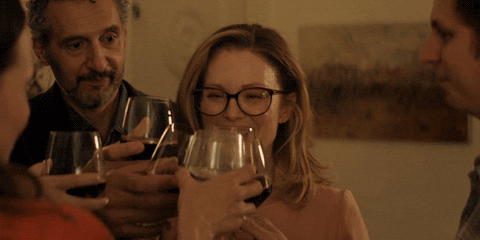 Throughout my time writing this blog, I've had a lot of people ask me how they should go about buying wine. And that's a great question. Most of us wander aimlessly through the wine aisle and either pick up a bottle that's in our heavy rotation that we know we'll enjoy, or pick out a wine based solely on how beautiful the label is (I'm guilty of doing this far too often - I'm basically a marketing team's ideal consumer).
It can be quite intimidating, stepping foot into your local wine shop and having absolutely no clue where to begin. And while I am certainly no expert, I've picked up a few tips throughout the years that might help guide you in the right direction. The key to finding the wine you love? Buy a lot of it. Any scientist would tell you that the best way to get results is to experiment with different variables. Why not apply that to the development of your wine palette?
Step One: Start with Your Budget
Regular Budget


Just like you would with your groceries, it's important to set a monthly or weekly spending budget for your wine. This action will immediately narrow down the choices that you have when you're perusing through the wine aisle. It helps to make a set amount, and decide where you want to go from there. For example, if your monthly wine budget is $30, you can either choose to enjoy two delicious $15 bottles or six mediocre $5 bottles. Again, there's nothing wrong with either choice, it mainly just comes down to the experience you want to have that month.
Treat Yourself Budget
If you frequently opt into the $10 or less category of wine (guilty), you might have the occasional "treat yourself" moment and become curious about the wines closer to the top of the shelf. But this is where things could get sticky. Buying wine for $20 or more when you've never tried it before can feel like an investment. The last thing you want to do is buy an expensive bottle of wine, only to completely hate it and pour every last drop down the sink.
A great rule of thumb when evaluating what wines to splurge on is to determine (as specifically as possible) what wine you already love. If you frequently enjoy an Argentinian Malbec from the bottom shelf, chances are you will probably enjoy the $20 version of it. Worst case scenario, if you purchase a bottle that you absolutely hate, there's still a chance of salvaging it by pairing it with a delicious food dish or making it an ingredient in a cocktail.


Special Occasion (Just that one time) Budget
Every once in a while, you might want to spend a significant amount of money on a great bottle of wine. These scenarios are usually reserved for holidays, engagement announcements, birthday celebrations, or vacations. But of course, there may be a time where you simply just want to try an amazing bottle of wine. In this scenario, I recommend:
Asking the Staff: Whether you are at a local wine shop or a restaurant known for its wine menu, chances are your waiter has tried most of your options. Don't be afraid to ask them for suggestions after giving them your preferences, and telling them how much you are willing to spend on a bottle.
Splitting it With your Friends: We all know that wine is better shared with good company. But what's even better is a $70 bottle suddenly turning into a $17 bottle when split among four friends.
Doing Your Research: There are plenty of websites, large chains (like Total Wine), and apps like Vivino that offer comprehensive reviews from users that have tried hundreds of different kinds of wines. Doing a little preliminary research before shopping can help you get a good understanding of what you'll enjoy, and help you make a safe investment.
Step Two: Read the Labels


This may sound arbitrary, but before buying your wine, you should spend some time reading the back of each label. Oftentimes, labels will contain descriptions of the notes that you might pick up on in the wine. For example, a red wine might contain notes of cherry, blackberry, and vanilla. If you enjoy all of those flavors, chances are, you'll enjoy the wine. I usually stray away from the bottles that are trying to tell a story, or "create an experience" around buying the wine. I understand the marketing behind it, but it doesn't help me get a good idea of what it tastes like if all I know is that I would "enjoy it seaside with a large beach hat and great company."
Don't be afraid to thoroughly read each label before making your purchase. I'm definitely that weirdo that spends an absurd amount of time in the wine aisle, reading every single word of every single label. But hey, I usually end up with a great-tasting bottle of wine, so in the end, it's worth it.
Step Three: Ask Questions
Most wine shops or alcohol sections in your grocery stores are going to have extremely helpful staff that are willing and eager to help you out. Do not hesitate to ask them questions. Not only does this help you gain immediate clarity, but it also helps you build your confidence when speaking about wine. This, in turn, helps you slowly become more comfortable when it comes to picking out your wine in the future. There are no dumb questions when it comes to vino, and you would be surprised how non-judgmental these workers will be. And if they are judgmental, take your business elsewhere. We have no time for snobby wine nerds!
Feel free to make your questions as basic or intricate as you'd like. If you like heavier wine, for example, consider asking the staff for their favorite full-bodied recommendation. If you like fruitier wine, ask them for "fruit-forward" (but not sweet), wine.
Step Four: Take Notes


The best way to know exactly what you like is to buy a bunch of different wines. Okay, twist my arm. But once you buy a bunch of wines, it's also going to be super helpful to take brief notes on each one. Consider buying a small notebook dedicated solely to taking notes on each of your wine. Note the following:
Brand
Label (what did it look like)
Varietal
Tasting notes (you can either generate these yourself, or if you are a beginner, pull from the tasting notes that are mentioned on the back of the label).
How much you like it (this can be a simle scale of 1-10, with brief notes on what you liked or didn't like).
This is a very tradish way of keeping track of your likes and dislikes, and are great when buying wine from a boutique shop or local winery. Luckily, in the age of technology, there are other means of determining what you want to repurchase, and what you'd rather keep on the shelf. Apps like Vivino and large chains like Total Wine allow you to "favorite" the wines you loved, and look back on your past purchases, to easily keep track of your wine catalog. These platforms help you cater to your personlized taste by using data to make suggestions they think you would enjoy.


Step Five: Taste with Friends


Sharing wine with friends is a great idea for those wanting to buy a bottle that might be a little higher on the shelf (AKA pricier). Not only that, but wine is best shared with good company. Go in on a nicer bottle together, organize a get-together, and take turns going through all the tasting notes. This will help you build a robust understanding of the wine, and will give you some good insight on other's opinions. Again, wine tasting is subjective, so what might taste great to you could taste like dirt to your friend.
This is also super advantageous because it helps you determine what your friends will like. Let's say you purchase a nice bottle, but it's not really your style. Bummer. But you also don't want it to go to waste - see if your friend will polish it off for you. (This also works for gift giving, but please don't open it beforehand. And if you do, don't blame me for that).
If you Like this, Try This:
Here are a few basic ideas for the beginning wine taster to get you started:
Sweet:


The Main Players: Riesling, Moscato, White Zinfandel
Trying Something New: Gewurtztraminer, Ice Wine, Moscato d'Asti, Lambrusco
Acidic:


The Main Players: Sauvignon Blanc, Pinot Noir, Dry Riesling
Trying Something New: Chablis, Gamay, Albariño
Full-Bodied:


The Main Players: Cabernet Sauvignon, California Chardonnay, Syrah
Trying Something New: Tannat, Petite Sirah, Bordeaux Blend


Fruit-Forward:


The Main Players: Zinfandel, Chenin Blanc, Merlot
Trying Something New: Petite Sirah, Garnacha, Albariño


Dry:


The Main Players: Chianti, Merlot, French Syrah
Trying Something New: Cabernet Franc, Sangiovese, Beaujolais
Wines that I Love Under $10


California Roots Rosé (Target's wine brand), $5
Borrasca Brut Cava,$8.99
Spier Chenin Blanc or Sauvignon Blanc, $8.99
Skeleton Gruner Veltliner, $10.00
Matua Sauvignon Blanc, $9.00
Piazzini Chianti Torrato, $10.00
Wines that I Love Under $20
Provisions Wine, Rosé, (My favorite boxed wine brand) $17.99
Michael David Petite Syrah, $13.27
Kim Crawford Sauvignon Blanc, $17.00
Chateau Bois Redon Bordeaux Superieur (Bordeaux blend), $15.00
That's it! Thanks for bearing with me through this post.
Did I miss anything? What do you absolutely want to know when looking to buy your wine?